Definition
Attention-deficit hyperactivity disorder (ADHD) is the name given to a behavior problem when a child has trouble paying attention, is constantly fidgeting, and acts impulsively under certain circumstances. ADHD usually affects children, often boys, beginning at four or five years of age.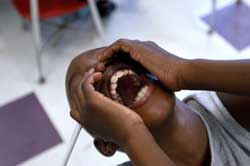 Signs and Symptoms
Typically, the warning signs are fist discovered in school when the child has trouble staying on task and is often in trouble with the teacher. In the preschool years, ADHD children are much more active than other kids the same age. They are constantly running and climbing on things, frequently shifting from one activity to another, and are often described as "always having the motor running." ADHD children may become easily frustrated and throw "temper tantrums." In older children, symptoms include constant fidgeting and restlessness, inattention during school or similar setting, and failure to complete homework assignments. Without the proper help, ADHD children may end up with low self-esteem and could suffer from a variety of behavioral and vocational problems as adults.
Recommended Course of Treatment
Parents who suspect their child has ADHD should contact the family doctor or a counselor at Serenity Mental Health Services. We are trained in dealing with attention-deficit hyperactivity disorder. Treatment usually begins by educating the child, parent, and other family members about the illness. A typical treatment plan will also include counseling in a group, family, or individual setting; psychological testing; and medication monitored by a physician.