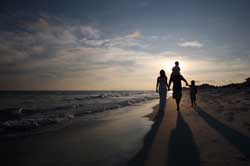 Definition
The difference between family counseling and other counseling services is that family counseling focuses on the strengths of the whole family and the stresses that accompany this unique relationship. Contrary to individual or group therapy, no one person's problem is singled out. Family counseling may be appropriate for both married and non-married couples, parents and their children, and any others who consider themselves part of a family.
Signs and Symptoms
While all families go through some rocky periods, the real need for counseling services arises during times of extreme emotional distress. The following are some warning signs that may indicate counseling is needed:
A general feeling that family life is dissatisfying.
Children's constant misbehavior, trouble in school, or under achievement.
Excessive use of alcohol or other drugs.
Irregular eating patterns, drastic weight gain or loss.
Emotional distress when talking about your fiancee, spouse, children, parents, or other family members.
Feelings of loneliness, isolation, moodiness, or depression.
Recommended Course of Treatment
Families facing serious or persistent problems should contact Serenity Mental Health Services to talk with a licensed mental health professional. An early step in family counseling is to shift the blame from the child or anyone else considered the family "scapegoat" and to concentrate on the family as a whole. The goal is to change the way the family interacts, communicates, and solves problems while focusing on the future.