Be Who You Are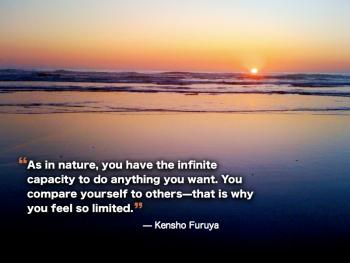 Please join me by reading the daily meditation from "The Language of Letting Go" by Melody Beattie and share your thoughts in the comment space provided at the end of this post.
Growing up as a child of alcoholic parents I did not feel safe or loved.  This feeling of not being good enough to be cared for or loved left me feeling unlovable.  I felt like I did not have someone to love and care for me so I was busy trying to survive and find a place to belong.
My search for belonging was complicated by the belief that to be worthy of love I would have to find a way to be someone else.  Subsequently, I attempted to deny who I was and eventually really did not know who I was.  I did not know how I felt or what to do about this not knowing.
I found my self always looking to others to teach me who I should be and what I should be feeling.  My self worth was very fragile because unless someone was available to provide me with a new script I was lost.  Even when I was provided a script, I felt insecure in my acting and quit unsure of myself.  I lacked genuineness because I wanted to act the part I was playing but I did not want to feel the fear that consumed me…so I did not feel much of anything.
Recovery has taught me that I need to feel my feelings, all of them.  Slowly I allowed my shame, blame, fear, anger and then relief, humor, anticipation, excitement and eventually joy and finally, love back into my life.  I put down my scripts and I began the process of looking in the mirror to discover who I had been, what happened to me that allowed me to wake up and who I am now.
Today: I understand that I am an adult child of alcoholic parents who did their best.  I gained many wonderful memories to balance the sad and often times tragic memories that haunted me most of my life.  I appreciate the life I have lived and the many lessons that I have learned.  I celebrate my ability to love myself, my parents, my husband and my children as I let them know who I am.