Letting Go of Chaos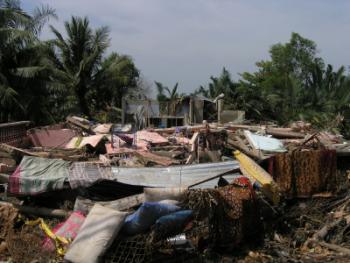 Please join me by reading the daily meditation from "The Language of Letting Go" by Melody Beattie and share your thoughts in the comment space provided at the end of this post (Click on the Read More button to read the complete thought for the day).
The process of life consists of many cycle.  For example; the seasons change from spring, summer, fall and finally winter then they begin again with spring, summer, fall and winter.  Year after year the seasons change.  Or to be even more specific, each day we experience the sunrise, mid-day, sunset and finally night fall.
One day we wake up and things look normal as the sun is shinning and life feels safe and secure.  As the day goes on the skies get dark.  That once calm and peaceful day is now dark and the wind begins to blow.  We have experienced storms in the past and so we understand that the best thing we can do is to find shelter and wait for the storm to pass.
After the storm has passed we assess the damage that has been done.  Then we experience feelings of anger, frustration, and maybe even sadness as we see the devastation that was caused by the storm.  In time the initial feelings of shock and grief fade and we begin the process of clean up and restoration.
There are things in our lives much like Hurricane Katrina, such as addiction, abuse and economic instability that are out of our control.  Such storms in our lives can generate feelings of anger, frustration, helplessness and loss similar to the loss experienced in Katrina.
These feelings that we experience before, during and after the storm follow cycles that are as natural in our existence as the seasons and the storms are.  So when we feel intense feelings like anger, fear or sadness we need to acknowledge that it is important for us to find a way to stay safe while we wait for the storm of feelings to pass.  Once the feelings generated during a storm calm down, then it is time to take action and begin the cleanup process to restore or lives.
Today: I will allow myself to take the time that I need to process the intense feelings of anger, frustration, helplessness and grief that I feel during one of the many storms that life will blow in to my life.  This time out will allow me to find the peace and safety that I need to do a better job of assessing my needs and the action that I need to take to rebuild by life.